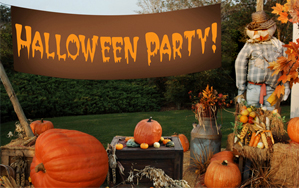 Does your family all-out decorate your yard for Halloween? Want a great tip for your decorations that you can re-purpose and reuse after Halloween? If you answered yes, you've came to the right place for tips on decorative landscaping for Halloween using pine straw! Even if you don't go all-out for Halloween and would like to just have one or two yard or porch centerpieces we can give you advice with that too!
Outdoor Halloween decorations certainly add to the Halloween atmosphere no matter where you are located in the United States. Adults and kids of all ages enjoy decorating for Halloween and like seeing all of the decorated yards especially while Trick-or-Treating.
Just the thought of using bales of pine straw in your holiday landscape décor' will make your house the best dressed Halloween house on the block.  What else is more fall landscaping than pine straw? Spread it across the landscape for an auburn colored bed for other decorations or stack whole pine straw bales to act as a pedestal for the rest of your Halloween decorations such as your pumpkins, gourds, scarecrows and other decorations.
Halloween decorating ideas to place on pine straw bales:
Mums (flower pot) due to their Halloween and fall colors
Carved or un-carved pumpkins; place lights inside of the carved pumpkin as a safe alternative to using a candle.
Basket of dried cornstalks
Dead flowers with a pile of dirt because they can act as a graveyard for Halloween decorations
Party stores and Halloween stores carry other items to intensify the "scariness" of your yard.
Place "spider webs" (purchased from most retailers in the Halloween section) on the straw bales, pumpkins, flower pots, tree limbs, etc.
Other decorative ideas for Halloween using pine straw are as follows:
Pine straw/needles make a great scarecrow. After the scare crow is made, place it in front, behind or to the side of the pine straw bales. You can even make the scarecrow sitting or lying down on the straw bales.
Make ghosts to hang from trees and limbs. Stuff an 8" ball of pine straw in the top of a white kitchen trash bag and tie it off with string, a zip tie, bread tie or something similar. Let the kids draw a face on the "ball" part for the ghosts head. After Halloween is over cut the tie off and re-use the trash bags. The pine straw can be used for mulching.
After Halloween
After Halloween, cut the ties on the pine straw bales that were used as pedestals and apply it as landscaping mulch, approximately 3" thick (see Pine Straw Tips & Uses). This will provide your landscape with the blanket it needs to protect your plants, trees and shrubs from the cold winter months ahead. See our October 16th blog post on "Steps to Prepare Your Fall Landscape for Winter" for other fall landscaping tips.