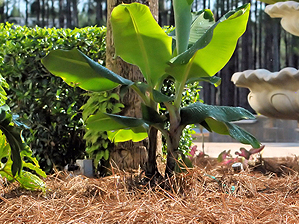 Did you know Florida gets freezing temperatures? You might be thinking Florida never gets cold however, Florida has moderate winter temperatures and freezes can occur from Florida City Florida to the panhandle and everywhere in between. Vegetable farmers in Homestead Florida can tell you all about long nights irrigating fields to protect crops from freezing in overnight temperatures. Protecting your winter garden plants in Florida is equally necessary because all it takes is one night of temperatures in the low 30's to 40's for your most loved plants and shrubs to receive damage.
Below we list some tips on protecting your plants from some of Florida's cold weather.
Proper Care for Winter Plant Protection
Mulch with pine straw around the base of plants, shrubs and trees to protect shallow root systems. Pine straw will insulate the plant absorbing the sun's radiation using it at night to keep your plants, flowers and trees warm, just like a blanket uses our body heat to keep us warm at night.
Tip: Mulch around plants, trees and shrubs before a frost and after all of the leaves of trees nearby have fallen, your pine straw will look better longer as leaf free mulch!
Plants, trees and shrubs properly fertilized in the fall will recover quicker from frost damage. Dont wait until late fall to fertilize or prune otherwise the cold weather can cause damage to new growth.
Continue to water newly planted plants, trees and shrubs since it doesn't rain often in Florida during the winter. Most of the above ground plant is dormant however the roots can continue to grow if adequate moisture is present.
Covering Plants and Shrubs
Cover tender plants by using cloth, such as old sheets or quilts, burlap or special covering from local nurseries that is made for plants and always avoid using plastic. Plastic will cause condensation to form on the leaves from freezing temperatures which results in the leaves burning in the sunlight. Covers that go all the way to the ground work best because it can lessen the damage by reducing heat loss.