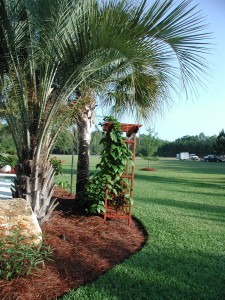 It seems easy enough to add mulch to your landscape, but the experts always seem to make everything look flawless. Believe it or not, you can install mulch just like the professionals do. Follow these tips and your landscape can have that clean, high-impact appearance, without the cost of hiring an expert.
Prepare Your Landscape
Prune any bushes and trees first.
Remove any sticks, dead leaves, cuttings, or old mulch from your garden beds.
Remove any existing weeds and treat trouble spots with a weed killer like round-up.
Preform "edging" along beds and paved areas.
Installing Your New Mulch
Load a wheelbarrow with your mulch to make it easier to carry more each trip.
Dump the mulch in small mounds around your work area.
Spread the mulch out evenly with a rake. Usually 2-4 inches is the ideal depth.
Always leave a space a couple inches from the base of bushes, trees, and plant stems.
After installation make sure to rake or use a leaf blower to keep any dirt or mulch in the bed.
Smooth-over the top of the mulch, making sure the edges are even.
Keep in mind there are several ways to perform the edging task. For small areas you can use a square shovel to form 3-4 inch wide edges which are roughly a couple inches deep. A mini-tiller can be used for larger beds, the dirt can be blown back into the bed with a leaf blower when finished. Alternatively you can rent a bed edger, this is especially useful for very large projects.
Expert Tip
Along sidewalks, curbs, and driveways you should dig a 3-4 inch wide edge that is roughly 2 inches deep. When you add mulch to these areas it will rest against the side of the pavement rather than overflowing on the edges. You should now be able to enjoy your professional looking landscape.