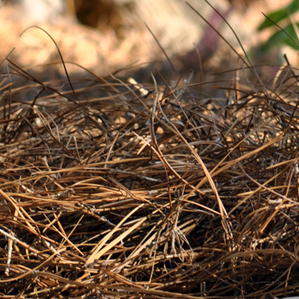 Natural garden mulch is a protective layer of organic material placed on top of the soil. The use of mulch use varies from highlighting garden paths to keeping weeds down as well as assisting in overall plant growth and health. There are many different types of natural garden mulches and you should select the proper type of mulch based on your needs.
Many types of mulch are organic such as wood chips, pine straw and grass clippings however some mulch like polythene and gravel are not actually organic. Even though the last two are not natural they can still be used in an organic garden alongside natural mulch. The big advantage of organic mulch such as pine straw placed over artificial fabrics is that the natural organic mulch will improve the soil and provide much needed nutrients to the plants.
Fall is the main time of year to complete mulching in your landscape. Natural mulch helps to retain heat in the soil over the winter month which gives the soil a higher starting temperature in the new season. It also protects delicate plants and will allow them to survive the effects of winter rains and erosion.
In spring the natural garden mulch can be removed from your landscape and garden beds before planting/propagating which allows the sunlight to warm the soil, naturally. Once the new plants are well established new garden mulch can be applied to conserve soil moisture through the dry summer months. This helps to reduce watering costs and improves plant health.
An important reason for adding a layer of natural garden mulch such as pine straw is simple; to keep the soil covered and protect where there aren't any plants growing, especially when the surface is open. Ground cover also looks far more attractive than bare ground between plants. Long-lasting areas of pine straw or gravel can also be established around traditional features such as water fountains or birdbaths, shrubs and pathways.
Some of the more ideal places to use pine straw mulch are under the following plants: heathers, azaleas, rhododendrons, camellias and around blueberry bushes. Such plants love pine straw since it contributes to the soil by putting valuable nutrients back into the soil which will in turn directly benefit the plants. See what other types of plants grow best in pine straw: Plants that Love Pine Straw and Plants that Benefit from Pine Mulch
Pine straw mulch provides a well-drained and moist, springy layer of protection that is the best organic mulch for enhancing the beauty of your landscape while giving back to the plants!
Get a pine straw quote today and see where we deliver!