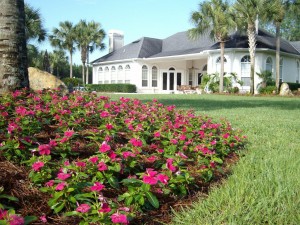 Each year, huge amounts of chemicals are sprayed onto gardens, negatively affecting the environment. Thousands of gallons of fresh water are contaminated just by homeowners who want to grow plants. Of course most of this chemical damage is done by the big agriculture food producers, but an alarming part of the damage is still done by homeowners wanting to rid themselves of weeds and pests.
This can be reversed; you can make a difference by changing how you handle weeds and pests in your garden. In fact many large agricultural producers have made the change to natural methods, and you can use the same techniques. We will go over three of the best ways; using natural mulch, choosing the right plants, using the plants to actually repel pests, and rotating your garden.
Choose Natural Mulch
There are actually some very quick and simple methods for safely getting rid of pesky weeds without using chemical sprays.  Natural mulch like pine straw, controls weed growth by smothering seedlings and prevents daylight from filtering through to the weed seeds, and the pine mulch also prevents unwanted air-borne seeds from germinating in your garden beds. Pine mulch in bulk is often used by commercial and agriculture business to regulate soil temperature and enrich the soil as it breaks down and releases nutrients back into the soil.
Pick the Right Plant Types
Not all plants may be appropriate for the area you live in. If you choose the right plants for your area, you may be able to avoid using chemical fertilizers. You can easily research what plants are native to your surrounding area by calling or stopping by a garden center or nursery and asking local experts who make their living selling plants in your area. It is harder to grow a cactus in Alaska than in Arizona…

Rotate Your Garden Crops
Most farmers use a technique called "crop rotation" to create rich soil that naturally fertilizes crops. It is simple and works by simply changing what type of crop you plant in your garden each year. This works because various plants use specific nutrients and contribute certain nutrients which in turn means that you will only need to fertilize the soil now and then. This especially applies to your vegetable garden, try rotating where you place certain types of plants in your garden each year.
Choose Pest Repelling Plants
There really is no need to rely on poisonous chemicals to keep pests out of your garden. There are actually certain plants that produce natural chemicals that repel pests. We discussed one earlier that does so and can be used as natural mulch that deters weeds too, pine needle mulch, but be sure to get yours from a company that cleans the straw before use in the garden. Other plants that repel pests include Mint, Wormwood, Catnip, Lavender, and Sage. As a bonus you can actually use parts of these plants to make natural products to keep pests away from you. Research some of these amazing plants to find out what grows well in your zone, and what types of pest repellant plants will fit your needs.