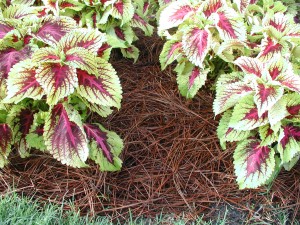 Are you trying to figure out how much pine straw you will need to cover your garden for winter? Well it is actually quite simple. First we need to calculate the square footage of your garden.  The easiest way to calculate square footage is to measure one dimension, we'll use my humble garden as an example, it is fifteen feet across. Next we multiply it by the adjacent dimension, in this case mine is a fifteen foot square so it is pretty easy. It comes to 225 square feet.  Here it is in numbers: 15' X 15'=225 ft2. If you are using your pine straw for landscaping, you may want to subtract a little to compensate for the space taken up by shrubs or other plants-but I feel that it is always a good idea to have more than less!
Now, we need to decide what the depth of the pine straw we want for the coverage we are looking for. Most experts recommend a depth of about 2-2.5 inches of pine straw, spread evenly over the entire calculated area. I have tried this in years past; I have never been one to do things halfway and I felt that this was just not enough. Call it gardeners' intuition, but anyway I like to use at least 3 inches now. I say at least because I live at a higher altitude and I like a little extra coverage.
So we now have a total calculated area of 225 ft2 at 3" deep. We now know we need 56.25 cubic feet. I got that number by multiplying our area, 225 ft2, by 3 inches, or 0.25 of one foot. Here it is in numbers: 15' X 15' X 0.25' = 56.25 ft3.  Whew! Are you still with me? Good, now the hard part is over! And it is time to get down to the fun; playing in the garden.
I like to begin mulching my garden for winter sometime in mid-fall. This can be a little tricky as the weather can change quickly. I try to get the most out of my garden so I will even lay down some pine straw while things are still growing. The pine straw mulch really helps to retain the water at the roots and keeps it from evaporating on those blustery days. Most importantly, it keeps them nice and warm on the colder nights.
There you have it; a quick and simple way to calculate out how much pine straw you will need to cover your garden and get it ready for winter.
As we say here: "Keep your thumbs green, your knees brown, and bloom wherever you are planted."