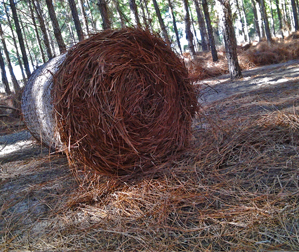 After this year's freezing cold and crazy weather winter I am thinking of a nice fishing trip off the Grand Turks or some other warm exotic and tropical land.  Followed soon after by getting our yard and garden beds ready for Spring which officially begins March 20, 2014 and not soon enough for me. If you have already thought of how you will mulch for the spring but haven't started yet you're in luck! There's something new and easy for garden beds and ground cover this year.
Custom Pine Straw is introducing round pine straw bales to their retailers this year that are available for purchase for the spring 2014 gardening season. Professional landscapers have tested round bales of pine straw and are asking for it with great demand for their customer's everyday landscaping projects. Landscapers and groundskeepers are choosing round pine straw bales over square pine straw bales and other organic mulches.
"Round bales of straw can just be rolled out and fluffed right where you want it and in the thickness you want also. Whereas other mulches I have to place large amounts in different areas and spread it, or take more time to fluff and spread it. The round pine straw bales dramatically reduced the amount of time it takes to mulch the garden beds and around trees." – Larry Thompson
Landscapers can save between 30 – 40% of their current labor costs by using round pine straw bales because it is much easier and faster to spread. Homeowners will be choosing round pine bales of straw not only because the ease of use but cost savings as well. One round bale of pine straw will cover 135 to 150 square feet. Custom Pine Straw round bales have 2.5 times the capacity compared to our square pine straw bales.
Round pine straw bales are more consistent in size and weight weighing approximately 36 to 38 pounds and have zero loss of product because it "rolls out" exactly where you want it without breaking apart and dropping needles. Round pine straw bales is also much cleaner pine straw having less leaves, twigs and debris than square bales.
Get your FREE quote today or call us (386) 395-6933!