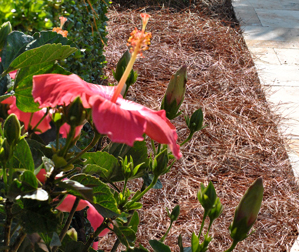 Spring is just around the corner and you're probably beginning to think about what type of flowers you will be planting. Spring is a time where people like gardening because it's a relaxing hobby and they like their yard to look aesthetically pleasing. Generally a flower garden is quite easy to care for. The most important aspect of gardening is keeping your flower beds mulched.
Normally the best time to mulch is right after winter while the soil is still moist. Mulching during the spring is still better than not mulching at all.
Choosing a Mulch
There are all sorts of mulches on the market today. Still, the best mulch is organic mulch as it provides more benefits to the soil as it slowly decomposes. Landscape professionals nationwide prefer to use pine straw. Pine straw is sold in cubic feet by the bale. Use our bale calculator to find out how much you need.
Before Applying a Mulch
Before you spread your mulch it is best to pull all of the weeds. You can even begin planting new plant seeds and bulbs.
Spreading the Mulch
Spreading mulch is very simple just spread it evenly and 3 inches deep. It is recommended to be 3 inches deep to stop weeds from getting any light to grow. The best way to apply pine straw mulch is by hand. Pine straw retains moisture so don't cover the base of the plant and instead extend the straw to the drip line of the plant (at least 2 – 3 inches away from the base of plants, trees and shrubs). See more tips.
Mulch Maintenance
Since pine straw is organic and it will slowly decompose over time, periodically check and make sure to add new straw in areas where the needles have decomposed. Also rake the mulch from time to time to make sure that it hasn't compacted down to much so that rain and water can still get to the soil.