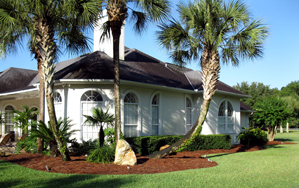 Many people believe preparing their gardens and landscape for winter is pretty easy however that is not the case if you want those bright, eye-catching flowers to be at their healthiest when they first appear next spring. Now, during the fall (also read our blog "2013 Fall Mulching with Pine Straw") is the best time to prepare your landscape for the cold winter months ahead.
Here's a few tips to prepare your garden and landscape for winter:
1. Give back the nutrients to the lawn that it needs through fertilizing.
"Right now, it's key to work on your lawn," says Jim Welshans, regional turfgrass educator at Penn State University. Many people believe spring is the most critical time to fertilize their lawn when in actuality it is fall for many parts of the country. Welshans explains: "In Pennsylvania we grow cool-season grasses and during the summer they're not very active." Come autumn, however, they revive.
Cool weather grasses such as Kentucky bluegrass, perennial ryegrass and others should be fertilized twice during the fall. The first application should have been in mid to late September (when fall began) using a fertilizer that is high in nitrogen. The second application should use a fertilizer high in phosphorus, roughly in late November around Thanksgiving before the ground is frozen. This second application will prepare your lawn and plants for next year.
Warm weather grasses such as Bermuda, Zoyia, St. Augustine, centipede and others go mostly dormant in the winter however it is still recommended to fertilize your lawn from mid-September to mid-October to restore vital nutrients needed to produce healthy roots and sustain it over the winter.
2. Reseed and plant new grass seed now so it will germinate before winter.
3. Continue watering your garden beds and landscape throughout fall into early winter.
The ground should be moist before winter however not soaked otherwise mold can develop within your garden beds and landscape. TIP: to reduce the amount of watering needed throughout all seasons of the year use natural mulch such as pine straw, which not only protects your plants, retains moisture, adds nutrients to the soil – it also breathes and does not encourage mold growth.
4. Do not prune from now until spring.
Plants, trees and grass are now preparing to go dormant for the winter so you do not want to encourage growth through pruning. Once dormant however pruning of trees is encouraged.
5. Transplant and cleaning flower beds in the Fall.
Fall is a great time to transplant trees and shrubs especially in the South because tree roots have a longer period of time to establish. Remove perennials from your garden bed during the Fall so that when heavy rainfall occurs in the beginning of spring there is not a lot of root rot.
6. Most importantly is applying ground cover such as pine straw.
Adding ground cover such as pine straw to your plants and garden beds allows them to be protected against erosion from rain and snow, keeps the weeds down and most importantly acts as a blanket and keeps your plants warm during winter. Mulching Tip: pull mulch away from tree trunks by at least one inch to deter rodents from making the ground cover their home during winter.
Move tender plants that are in hanging baskets indoors or where temperatures will stay above freezing.
7. Continue mowing until late Fall when your lawn stops growing.
It's Prime Time for Planting:
Plants: Hydrangeas, fall flower bulbs such as Gladiolus, Daffodil bulbs and Tiger Lilly bulbs.
Fruit and Herbs: blueberries, garlic, basil, chives, oregano, parsley and thyme.