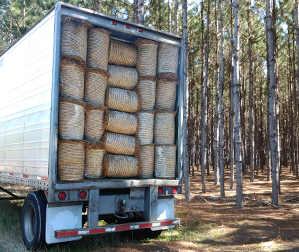 Our round and square pine straw bales are sold wholesale direct to landscapers, landscape contractors and architects, retail chains, retail nurseries, major lawn and garden centers,  developers, golf courses, airports, cities, counties, homeowners and all other customers who want to purchase a minimum of one full truckload of pine straw.
With over 18,000 acres of timberland producing over 3.5 million bales of pine straw in North Florida and Southern Georgia, we have the ability to ship pine straw most anywhere in the United States. Our pine straw is delivered in well-maintained and enclosed dry storage trailers to the project site or landscape yard of your choice (drop trailers are available upon request). Bulk pine straw deliveries are made to most states in the contiguous United States (see the list here). Wholesale pine straw deliveries to southeastern states are made the next day on orders placed before 5 pm and is based on product availability.
Pine straw is harvested, sold and transported by Custom Pine Straw. Our pine straw is hand raked and cleaned, carefully baled and tied to ensure that each bale has maximum weight, is ready to spread and has minimum sticks, pine cones and debris.
Pine straw is the preferred choice of landscapers and developers for all of their quality landscaping projects. Pine straw aids in protecting plants during sudden climate changes and throughout every season. For summer landscape jobs, professional landscapers choose pine straw as the beautiful and natural mulch to protect tree and plant roots from the direct heat of the sun and to reduce water usage and irrigation because it creates a natural moisture barrier. City and county highway landscape and road development crews choose pine straw as a groundcover to use on new plants and trees as well and on slopes to protect against erosion.
Currently we are producing both round pine straw bales and square pine straw bales. Purchase wholesale pine straw to save money on your next big landscaping project. Get a quote today.